A GHOST IN THE JUNGLE PREVIEW DVD - Only $9.99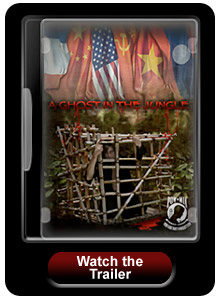 The following preview is the odyssey of the life and time of Special Forces Captain Rhinehart Balder, fighting in a secret war in the swamps, jungles, and mountains of Laos,
alongside a band of warriors like so many others sent into the heart of darkness by those men...

His fate takes him face-to-face with the throes of man's deprivity, savagry, inhumanity, lust for power and ultimate betrayal. HIs is a story of good versus evil, faith, hope, sacrifice, vengance, redemption, and the bond of the warriors' code, only to be left behind in the hands of the Communist overlords.

It is also an enduring love story of a women's unwavering devotion , fighting her own battles to finally bring her husband home. The saga takes viewers into the squalid tortured-filled jungle prison of the North Vietnames/Pathet Lao, to the fall of Saigon, the filth-plagued streets of Mogadishu, Somalia, Gulf War I, to the sweltering-blood soaked sands of Iraq, and the gauntlets of death in the frozen mountains of Afghanistan. "A Ghost in the Jungle" reveals the unthinkable fate of the scores of American MIAs who were abandoned, but not forgotten.

Never Again...
Let no American man or women ever be left behind.
You can purchase this preview DVD to share with others. Also available is a version of the upcoming theatrical motion picture poster.
You can purchase the Exclusive GHOST IN THE JUNGLE DVD Preview from Bonholtzer Productions by clicking the button below.